Hard Rock Haven 'Sanctuary' Review
Praying Mantis Sanctuary
http://hardrockhaven.net/online/2009/praying-mantis-sanctuary/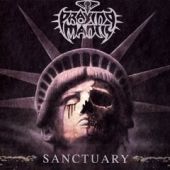 It's hard to believe, but British melodic hard rock band Praying Mantis celebrates its 30th anniversary this year. The band was an early,
important player in the now-legendary New Wave of British Heavy Metal (NWOBHM) scene, appearing on the legendary Metal for Muthas compilation alongside Iron Maiden and Angel Witch. Since the NWOBHM days, Praying
Mantis has weathered changing musical climates, label changes and more lineup turnover than most bands could imagine, developing along the way into one of the better (if consistently overlooked) melodic rock bands around.
In late 2008, Chris and Tino Troy – the band's only permanent fixtures over its 30-year history – recruited members of their local pub band Paddy Goes to Holyhead for a new incarnation of Praying Mantis. They traveled to the U.S. to record under the guidance of producer/engineer Andy Reilly, who had previously worked with Bruce Dickinson, FM, and Asia. The result of those sessions is Sanctuary, Praying Mantis's latest album, and easily their best release in years, if not decades.
We've all heard apathetic, status quo albums from veteran artists that sounded like they were phoning it in. Sanctuary is the exact opposite.
Sanctuary sounds like the work of a hungry band with something to prove and the talent to back it up. It's an extraordinarily vital and energetic melodic hard rock album. All the stars seem to be in alignment with this album. The new lineup sounds like they've been playing together for ages, and the songwriting is inspired. The melodies are utterly captivating, and the production job is first rate. And then there's the vocals; Mike Freeland's voice may not be as recognizable as Dennis Stratton's or Doogie White's, or as
powerful as Tony O'Hora's, but it perfectly suits the band and these songs, whether he's belting out heavy rockers such as "In Time" and "Threshold of a Dream" or ballads such as "Turn the Tide." Speaking of which, even the most jaded ballad-hater ought to get chills listening to that one!
Praying Mantis has really outdone itself here. With any luck, Sanctuary
will be the album that finally gives Praying Mantis the wider audience its music deserves. If you're a fan of high-quality melodic rock along the lines of Place Vendome, Sunstorm, Hardline, Starbreaker and Pink Cream 69, do yourself a favor and check out Sanctuary.
Lineup:
Chris Troy – Bass, Vocals
Tino Troy – Guitar, Vocals
Mike Freeland – Lead Vocals
Andy Burgess – Guitar, Vocals
Benjamin Reid – Drums
Track Listing:
1. In Time
2. Restless Heart
3. Tears in the Rain
4. So High
5. Turn the Tide
6. Touch the Rainbow
7. Threshold of a Dream
8. Playing God
9. Highway
10. Sanctuary
HRH Rating: 8.5/10