Hardrock Haven Online Magazine – Legacy Review
HardrockHaven.Net Review
http://hardrockhaven.net/online/2015/07/praying-mantis-legacy-cd-review/
Praying Mantis | Legacy
by Justin Gaines
– Senior Columnist —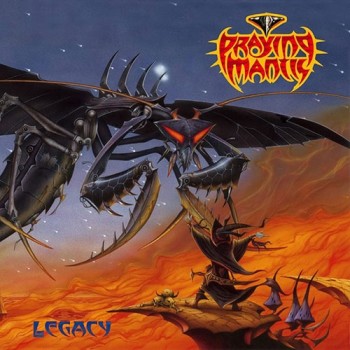 It has been way too long since NWOBHM-turned-melodic rock band Praying Mantis delivered some new music. It's been four years since theirMetamorphosis release, and that was just an EP of re-recordings. Their last proper studio album – the excellentSanctuary – was released back in 2009. After yet another round of lineup changes, Praying Mantis is back with a new album, titled Legacy.Legacy is either their ninth or tenth studio release, depending on how you classify the Stratus album, and is the first to feature drummer Hans in't Zandt and vocalist John "Jaycee" Cujipers. It also marks the return of cover artist Rodney Matthews, whose art graced the earliest Praying Mantis classics.
Praying Mantis has always delivered memorable Melodic Rock albums, and Legacy is no exception. There's still a bit of their heavy metal roots here, especially in the twin guitars of Tino Troy and Andy Burgess, but it's the band's focus on melody that drives the album, and what makes these songs hit home right from the start. Melody and a slight metal edge, epic, dramatic songwriting, and some very impressive vocals. Praying Mantis always seems to find the best new singers. Aside from some cover bands and a one-off appearance on an Ayreon release, Jaycee Cujipers is a relative unknown, but that's sure to change after this. Cujipers has a steady, powerful voice (he sings for a Dio tribute band if that tells you anything) that's just perfect for this kind of Melodic Rock. Even more so when he's backed by the Troy brothers on the soaring choruses.
It's hard to call out a couple of standout tracks here. Legacy features eleven new songs, and they're all very strong. Leadoff single "Fight For Your Honour" captures the spirit of Legacy quite well, but you could pick, "Tokyo," "Against the World" or "Eyes of a Child" and still seal the deal. Even the more traditional love song "The One" has pomp and power. What's the old catchphrase – "all killer, no filler?" Well, in this case that's spot on.
Even though it has been six long years, Legacy is undeniably worth the wait. It's a more than worthwhile addition to the Praying Mantis discography, and is one of the strongest melodic rock albums 2015 has to offer. Whether you've been following Praying Mantis since the NWOBHM days or have never heard them before, if you're a fan of high quality melodic rock, especially bands like Pretty Maids, Allen-Lande and House of Lords, Legacy is a must-have album.
Genre: Melodic Rock
Band:
Tino Troy (g) (v)
Chris Troy (b) (v)
Andy Burgess (g)
John "Jaycee" Cuijpers (v)
Hans in't Zandt (d)
Track Listing:
1. Fight For Your Honour
2. The One
3. Believable
4. Tokyo
5. Better Man
6. All I See
7. Eyes of a Child
8. The Runner
9. Against the World
10. Fallen Angel
11. Second Time Around
Label: Frontiers Records
Website: www.prayingmantisukrockmetal
Hardrock Haven rating: 9/10