Metalcova Festival Review – Thanks to 7ight 7or 7reedom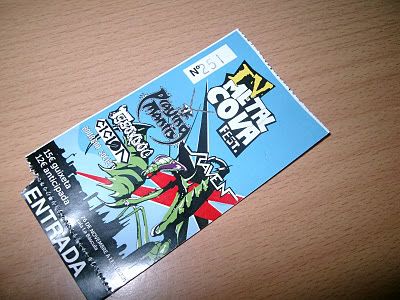 Praying Mantis … finally!!
http://www.youtube.com/watch?v=b_jcNQi1tzo
Yes, true, despite a whole year waiting, finally on Saturday 26N in Barcelona, true NWOBHM Legends were delivering a great show. Raven and Praying Mantis were headliners. Before, Bourbon Society, Wild and Tysondog were opening the festival METALCOVA IV.
Around 23:00 h local time, Praying Mantis went on scene and checking sound. After 20 minutes which seemed eternal, finally thumbs up from Tino and drummer.
From song one it was clear that singer Mike Freeland and Troy Brothers wanted to give a great gig and they were enjoying and make the people enjoying the show. Even there were some words in spanish and some in catalan from Tino. All the songs were introduced with a 30 second presentation, and to all songs the thanked the answer from the audience. (PS: That reminds me my DIO concert in 98, Ronnie RIP.)
In the first songs Tino wasnt happy with the sound of his guitar, and I catched him looking to Andy in the beginning of Cant see the Angels and his surprise for the guitar effect. Tino tried eye-contacting the table, and asking for another cable in order to improve the sound. It was clear he wanted to enjoy but to play as good as possible, so I'd liked these moments so much.
Through all the concert they were making the people enjoy the gig. That felt really nice & great.
Another thing which I saw it was interesting, there were slight changes in all the songs except the new ones from Sanctuary and Time slipping away.
Short but intense, It was a never to forget concert.
Moments before the show, Chris and Tino went to see the fans who were there, and shook hands, have some little talk and made some photos and signed some records. It all felt great.
Praying Mantis – 26th November 2011 – Set List:
Children of the earth
Panic in the streets
Cant see the angels
Turn the tide
Restless hear
Time slipping away
Dream on
Dont be afraid of the dark
Running for tomorrow
Turn the tables
Encore: Captured City
If I had one word to describe, it would be AWESOME! … and it is true, Time tells no lies 🙂
A big thanks to METALCOVA. This means not only big promotors bring the best bands. Great job guys, you're the best!
A big thanks to Mantis for coming. Maybe we were only few and such a little audience, but we loved you since the beginning.
A big thanks to all the audience, people was nice and friendly. I enjoyed it so much.