Dog Magazine (GR) – Interview with Tino Troy
DOG MAGAZINE – ATHENS, GREECE

PRAYING MANTIS Interview starring
Tino (Guitarist )
Current mood:Blow Your Speakers with Metal
Category: Music

http://blogs.myspace.com/index.cfm?fuseaction=blog.view&friendId=183284738&blogId=507220160
— I N T E R V I E W —
with PRAYING MANTIS
FRONTIER Records
the staff
Tino Troy Guitars / Backing vocals
Chris Troy Bass Guitar / Backing vocals
Benjy Reid Drums and Percussion
Andy Burgess Guitars / Backing vocals
Mike Freeland Lead vocals

some story:
somewhere in time: …..PRAYING MANTIS re-inducted former vocalist Colin
Peel for recording of a new studio album during 2002. The band bounced back in
2003 with the album 'Nowhere To Hide'.

The
band utilised the services of two singers for this release in URIAH HEEP and
LONE STAR veteran JOHN SLOMAN and ex-RAINBOW and present YNGWIE MALMSTEEN
vocalist Dougie White. Meantime, former PRAYING MANTIS front man TONY O'HORA
was announced as the new front man for fabled 70s Glamster's SWEET and
subsequently enrolled into STATETROOPER as bassist.
The 2004 compilation 'The Best Of Praying Mantis' would include a re-recorded
version of the song 'Naked' and the rare 1982 single B side 'Turn The Tables'.

The
band, alongside DIAMOND HEAD, JAGUAR, WITCHFYNDE and BRONZ would unite for the
'The 25th Anniversary of NWOBHM' concert on 4th November 2005 at the Astoria in
London.

PRAYING MANTIS announced work had begun on the album 'Touch The Rainbow' in
July 2008, recording this opus in Atlanta, Georgia during September. The group
line-up for these sessions, subsequently re-branded as 'Sanctuary', comprised
founding members Tino and Chris Troy on guitars and bass respectively, Benjamin
Reid on drums, Andy Burgess on guitar and Mike Freeland on vocals.

'Sanctuary'
saw release in June 2009, launched with a May 3rd concert at The Bush venue in
London. The band united with fellow NWOBHM act TANK for a 24th May concert at
The Peel in Kingston Upon Thames.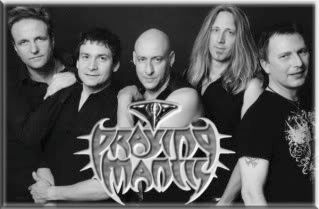 What's the story since has recorded previous album (Journey Comes)to
Pony Canyon Records in 2003, before regrouped, until year 2008 when comes
out the "Sanctuary " album ,where was the band missing these
5 years from the international limelight.
We were getting a whole new band together that we felt could
be the ultimate Mantis. We needed more commitment from these guys and the
reassurance that when the album was completed they would not leave straight
after a couple of shows as has been demonstrated in the past by previous
members. We also took the time to write a great albums worth of songs and the
reviews that we have received so far prove this.
The New Album sounds somehow differently from elder
one, you become more melodic more AORish, the slow songs pair
to night radio airplays, isn't that?
Well, we have mixed views on the album. Many people think it
is our heaviest contribution to date but that it also encapsulates the AOR feel
that you mention. This is born out of the enthusiasm of the new guys and their
willingness to be part of the new Mantis by getting involved in the writing
process.
Where has the album recorded, and mentioned, that used a
known producer Andy Reily, was he suggested by the label people, or pick him
yourself?
We chose him ourselves cos he likes to party as hard
as us 😉 I knew him when he lived in England and Benjy our
drummer had worked with him on past projects. When 'Riles' (as he is known to
everyone) moved to the US we thought it a great opportunity to get away from
the distractions of London and nail this thing. We were only there for 2 and
half weeks but in that time worked our asses off. And like I said earlier we
also partied our asses off. At the end of the day (as Benjy fittingly puts it)
ROCK is after all a four letter word!!

Now that album has over and goes to history. About the made of that, like an
effort, as for the recordings as for the ideas and concept, was it easier from
the previous one (long ago) or harder?
Both. Just as hard to achieve but easy coz we knew what we
wanted.

In albums
artcover shows the figure of New York's Freedom giant statue, in general does
icon means any concept or hidden ideas or social messages about the album?
Yes it is Liberty herself this time that
cries for freedom in a world that is tainted by anything other than
freedom itself. The song Sanctuary itse lf tells of the
plight of a group of teenagers who took their own lives
after making a suicide pact with each other via the WWW.
Artist of the front cover is Rainer Kalwitz, how much
involved have you in that, or that was suggested by the producer/ or the label?
Frontiers- our label showed us a piece of artwork by Rainer
that was OK but featured the ubiquitous Giant Mantis being fired at by a lot of
soldiers, it looked very Starship Troopers and no amount of Photoshop could
make it happen. In the end, Chris and me came across the Liberty image on
Rainer's website and I looked at him and said .Looks just like you Bro! After
having a good old brotherly scrap and tearing the sides off each other's faces we
said, 'That's the album cover!'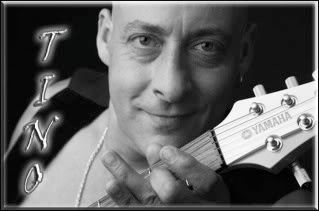 About the recent singer Mike Freeland, which way did you find him, through
an audition like an entrant, or was old known friend?
I first met Mike in the late 80's when he sang in a covers
band called 'The Sweet Shop boys' and wondered if he was gay ha ha! It
was only recently we crossed paths and he wasn't doing much musically apart
from some demos with a band called 'Dangerous Breed'. This band never really
got off the ground and when we asked him if he would like to sing on a couple
of the new songs he jumped in with both feet. Instantly Chris and I (in the
control room/bedroom Mike in the vocal booth/lavatory) looked at one another
again (this time without tearing the sides of our faces off) and we both agreed
that this was the man to 'Mantisize'. Mike is so different from our
previous cantors as he is so into this, heart and soul. He is amazingly dedicated
to the whole songwriting/recording processes and the general furtherance of the
band. I don't think we could ask any more from him.
Bands age is the same old as the (pop super stars)Talking Heads,
however effect was not the same, during time, cause tough rock metal
bands underestimated and suppressed by the system,If we think it
globally, in Act, essentially, you have the same age like them, how do you feel
about.(?)
You are never too old to rock …. This is my lifeblood
Thanx …….. TINO