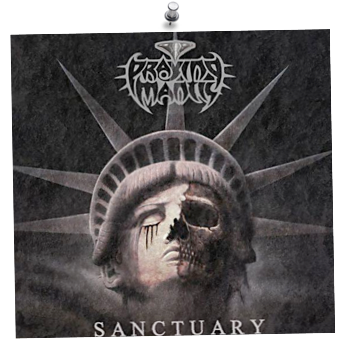 http://www.maytherockbewithyou.com/May_The_Rock_Be_With_You/Features/Entries/2009/8/18_PRAYING_MANTIS.html

Praying Mantis are a well established band of melodic hard rockers. They were formed by brothers Tino and Chris Troy in the mid 70's and together with 'Iron Maiden', they spearheaded the NWOBHM (New Wave Of British Heavy Metal) movement.

Their first album 'Time Tells No Lies' received much critical acclaim. After various projects including 'Stratus' featuring Clive Burr (ex Maiden) & Bernie Shaw (now with Uriah Heep) Praying Mantis reformed in 1990 (for the 10th anniversary of NWOBHM) with Paul Di Anno & Dennis Stratton. They recorded 'Live at Last' which sparked a re-birth and followed up with a further 11 albums.

They are gaining new fans worldwide every day, especially since the release of the brilliant new album 'Sanctuary' which was released in June 2009 and is receiving excellent reviews throughout the Rock and Metal world.

Founding member Chris Troy checked in with us to divulge all the details on "Sanctuary" which is surely one of 2009's biggest surprises as far as killer albums go!

From the opening track "In Time" the new album "Sanctuary" is a more convincing and cohesive sounding album than it's predecessor. Stating the obvious, you must be pretty damn pleased with how the album turned out and how it has been received so far?, there are some killer reviews out there!
Yes thank you, the reviews have been astounding, we really did not expect this so we are absolutely over the moon about that.

You have a few new band members compared to the last incarnation of the band. How quickly/easily did you settle in with the new lineup?
Amazingly quickly actually. There are some other bands that we have played in with these members and noticed that there was a natural chemistry. So when the situation arose it just seemed totally logical to use Andy Burgess (guitar)and Benjamin Reid (drums). Mike Freeland (vocals) we knew from many years ago and knew he had a great voice. I think it took a little bit of time for him to adjust to what we wanted, but then his vocals just seemed to get better and better. As good as it is now I still think there is more to come.

You recorded the album in Atlanta, USA with Andy Reilly (Asia, The Cult, Bruce Dickinson and fm) what led you to head to the USA to record?
To get away from the wife…….. Seriously we heard a lot about Andy when he was in the UK and that he could really deliver the goods in terms of production. We went to Atlanta where he has the studio and we lived and breathed the album for three weeks solid. There was tons of work done in a relatively short space of time as we knew we had that deadline to meet (I.e the flights back to the UK !!). It was actually incredibly hard work yet amazingly satisfying once we started getting a hint of what the final product was going to sound like.

Lyrically the album comes across as "dark" and rather complex, what were some of the lyrical inspirations behind some of the songs on "Sanctuary"?

Without doubt there are some heavier songs and and this goes hand in hand with the lyrics which as you say are pretty dark and heavy in a number of the compositions. I like the concept of "death" for lyrics , it is just the pure unknown which is such a driver and opens up so many avenues in the thought process.

What was the inspiration behind the sad Statue of Liberty on the album cover, does this tie in with the lyrical themes you described above?
Personally I love the cover as it paints a deep mental picture. We did toy with the idea of more Mantis type creatures but somehow I think we have outgrown that, and we needed artwork with much more impact. This artwork for us hit the mark and also really compliments the music. It is an artist called Rainer Kalwitz. He was actually a friend of ours on Praying Mantis Myspace page. One day we were thumbing through his artwork on his site and this "Sanctuary" design just jumped out at us although he does have some other stunning artwork. It is of course the head of the statue of Liberty ,but part of it is decaying which can signify a dying nation, or dying world, etc. The interpretation no doubt varies for each person that observes and analyses it.

Recording "Sanctuary", were you working to any deadlines or pressure from your label Frontiers, or were you allowed the freedom to complete in tour own time?
Frontiers were great this time around. I think they really knew what they wanted us to produce and they really encouraged us to do it….without that encouragement we may still be toying about with writing the songs, etc…sometimes we all need a push and we needed a great big shove!

"Sanctuary" in my view straddles the boundaries of melodic metal with a European flavour, whilst containing elements of the classic rock twin guitar assault, definitely a heavy dose of AOR'ness and of course the trademarks of Praying Mantis… For those reading not familiar with the band, is this an accurate assessment of the album from a musical sense in your view?
Yes …I think it sums it up pretty well.

You played some of the big open air festivals in Europe last year, describe some of your experiences from these shows?
Playing the large shows is an amazing experience…..The thing is that the Mantis sounds really needs that big stage and the accompanying sound. Mike the vocalist also excels with the huge stages and uses them to maximum advantage. Some years back we played the Wacken festival in Germany which is a huge show with 4 separate stages spread around the camp site. The sheer size of it can be a bit demoralizing. What I remember is starting with a relatively small audience in front of our particular stage because there was already some big bands playing on the other stages. However the sound engineer we had managed to get an amazing
sound out front and bit by bit I noticed the audience size grow and
grow. By the last few songs of our set it was amazing as that once
small amount of audience had now grown to absolute thousands and there was just this image of a sea of heads !!!…..superb feeling.

You have a visit to Japan coming up in November, a country that has been a happy hunting ground for the band. What do you think is the appeal of Praying Mantis to Japanese audiences?
I suppose the good thing to say is that they saw the potential of the
band before others…..I don't know really, maybe they liked the name which does have some Eastern connotations. They have been amazing to us over the years and have been really faithful. They just adore the heavy melodic element and when we first introduced that music to them in 1980 they just lapped it up.

Praying Mantis have been in existence for over 30 years, being one of the forefathers of the NWOBHM scene. What have been some of the most memorable moments/highlights thru this time?
I think some of the times we spent touring with Iron Maiden were
memorable as we really didn't know what was round the corner. I never ever thought that they would rise to such unbelievable
heights…bastards…..ahh well we gave them a good run!

What are your thoughts on where the music industry is at today as a band out there promoting a new album compared to your experience in 1977 as a young band trying to get heard?
At this time the NWOBHM became pretty big on UK scene and hence it was relatively easy for any of these bands to get onto festivals such as Reading . The late seventies and early eighties were superb, there was a sort of magical excitement that really isn't there now. It was sort of pure whereas now I think a lot of the bands, particularly the really heavy stuff seems a bit contrived. For new bands there is no doubt that it is incredibly difficult now, the competition is extreme.

With many lineup changes and stops and starts over the last 35 years, one has to ask what is the driving force that keeps the Troy brothers keeping the Praying Mantis name alive?
Just the ability to continue to make music is sufficient drive in itself. We love writing music and making albums and want to do that as long as we possibly can, even when our arms and legs drop off !. Also the drive to make an album where every single review gets 100%. Is that possible?

*Interviewed by: Scotty Rock